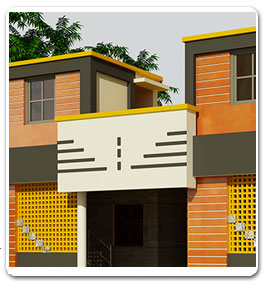 Pugazh Avenue @ Kayarembedu Junction, in Thirupporur Road,Chennai- 603 202
An Innovative modern lifestyle Duplex 20 Houses and 20 Nos Individual Villas, a gated community with excellent and elevated location in 2.04 Acres of land at Kayarembedu, ( Guduvanchery, Chennai 603 202 ) junction, Thirupporur Road,. Connecting GST road and OMR. The project is an exemplary one with basic needs and requirement of potable ground water.
The Location of the Project is ideal one and situated behind SRM University. Our architect, Mr.P.G. Sivakumar, a well known personality in his field, has shown the skill of art and design with dedication. The project is a remarkable one with a hygienic atmosphere by introducing STP and the project is 4.5 KM from GST road .
Our Project is financed by LIC Housing Finance which facilitates easy and transparent Housing loan sanctions at competitive interest rate to every purchaser of Individual Villas and Twin type Duplex Houses easy and trust worthy approach.